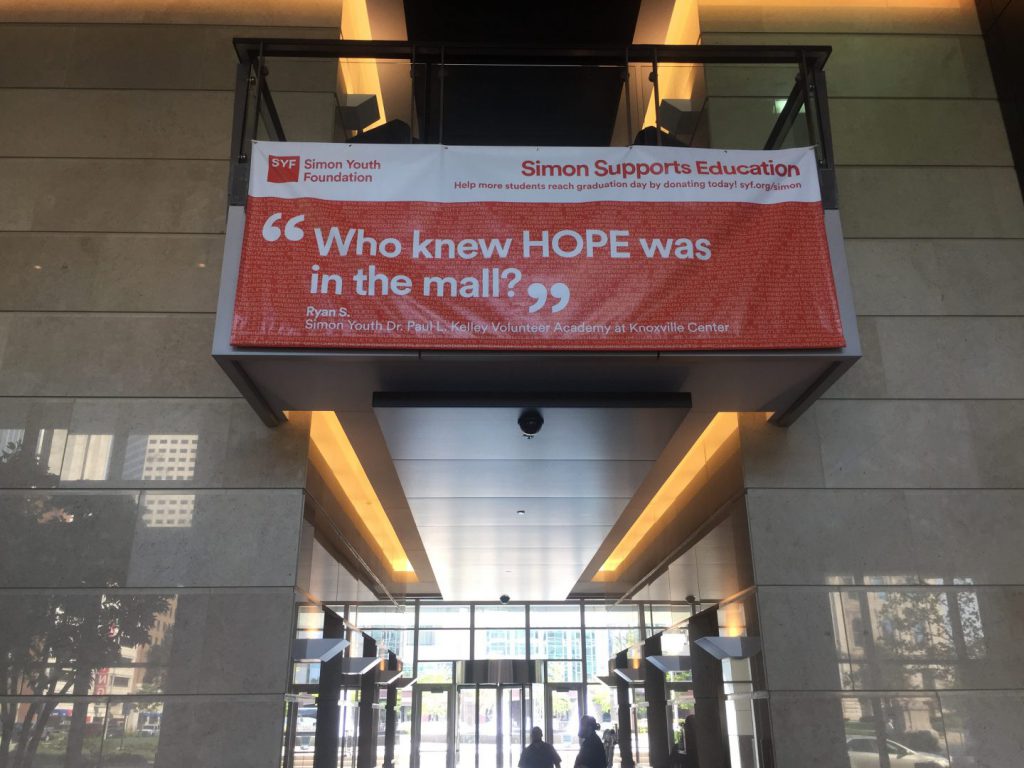 Custom Banners With Your Vision
Big business to small business, local to national, nonprofit to profit; we never limit your vision, so we don't limit ourselves by focusing on a single industry. Custom banner printing in St Louis and across the US can go any number of directions: indoor, outdoor, horizontal, vertical, diagonal, upside down, inside-out, vinyl and fabric. No matter your vision, we'll make sure it is BIG with our custom banners.
Print It Big uses advanced technology, printing equipment and quality inks to give your business banners the professional look that will reflect your business.

Custom Banner Printing Features:
Premium heavy-duty banner material for indoor and outdoor banners.
Professional full-color digital printing for vibrant colors that last.
Quality Inks for vibrant colors that will last.
Standard & custom banners it's your choice.
Banner Solutions
Let's start with the basics. A banner, by definition, is nothing more than a strip of material that bears an image or message. After that, the sky's the limit and that's where PRINT IT BIG! becomes your biggest ally for banner printing. Once you've embraced that anything is possible, we'll take you down the path to BIG results. Together, we'll turn that strip of material into banner solutions to whatever unique challenge is facing your brand, product, or service.
In general, one of the biggest benefits of printing a banner is the versatility of the options PRINT IT BIG! provides you. That's why we consider our end products to be custom solutions rather than just "print jobs." For example, if you have a situation where the message you are trying to promote is highly mobile, the ability to transport your banner will be critical to your success and we may recommend a retractable banner stand to meet your needs. If your environment is unpredictable, a more robust material might be the best choice to protect your investment. In this case, we might suggest vinyl banners over fabric banners. It's critical to the PRINT IT BIG! Our process consists of working together to optimize our expertise and capabilities to drive your dreams.
Banner Design
The first question we ask when PRINT IT BIG! begins working with a customer to print a banner is, what's your goal? This will help your dedicated customer service representative help you start considering the best way to display your message. We employ an expert banner design team that can take your initial banner concept to the next level or simply ensures your predetermined vision meets the technical requirements of our banner printing process.
Then, we bring your budget and timeline into the equation. PRINT IT BIG! has been printing banners in St. Louis and nationally for over 30 years. As a result, we understand efficiency and effectiveness in a way that many of our competitors do not. This allows us to pass critical cost and time savings along to our customers. Through these conversations, we identify what material, style, size, and shape will be ideal to ensure a quality printed banner without breaking the bank or blowing your deadline. Next, we leverage our innovative technology to produce the highest quality printed banner possible within the parameters of your project. Beyond just printing a banner, PRINT IT BIG! also offers finishing and installation services to further ease the burden of bringing your vision to life.
Banner Printing In St. Louis
PRINT IT BIG! takes great pride in our banner printing in St Louis and for our national customers. We welcome the opportunity to collaborate with you to generate greater visibility, clarity and visual appeal with speed and quality in mind. When a simple strip of material isn't enough, PRINT IT BIG! is your partner in BIG results.
CUSTOM BANNER PRINTING CREATES BIG INDUSTRY IMPACT
Big business to small business, local to national, nonprofit to for-profit; we'd never limit your vision, so we don't limit ourselves by focusing on a single industry. But, here's a few where we've had BIG results with custom banner printing: