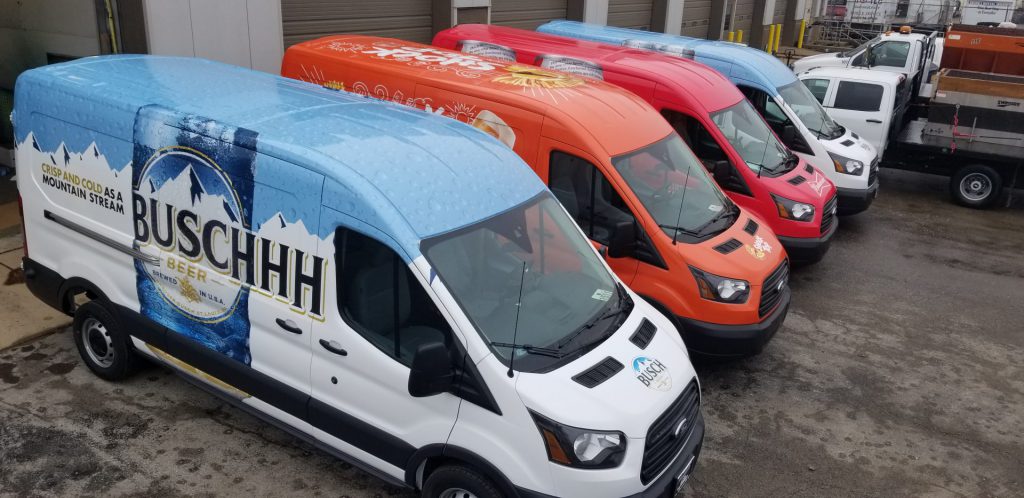 Fleet Graphics
When your business involves a BIG fleet of vehicles, you need a BIG printing solution to match! Fleet graphics will transform each of your vehicles into mobile billboards, so you will need those billboards to stand out and grab drivers' attention. Whether your team is driving cars, trucks, buses, vans, or anything in between, PRINT IT BIG! offers fleet graphics solutions for St Louis businesses that need their cars to carry messaging that is bold, clear, and easy to understand. Contact us today, for a quote on your new fleet graphics.
Fleet Wraps
Fleet wraps are utilized by a variety of different companies. From cab companies to delivery services, to company cars, fleet wraps can serve as a great marketing tool for almost any business, generating a greater brand awareness. There is an infinite number of people for your fleet to pass on a daily basis; the more frequently this audience is exposed to your brand name, the more likely they'll be to seek out more information about your company. In this way, fleet vehicle wraps and graphics are so much more than just decoration. They are a results-driven marketing tool, aimed at helping your business grow!
At PRINT IT BIG!, we will first want to understand the scope of the project and what you need in order for your business to thrive. That is why we pair every one of our customers with a dedicated customer service specialist, who can get to the heart of your needs and help you to determine what printing solution will serve your business best. Your customer service specialist may ask you questions about your company, how many fleet vehicles would need vehicle wraps or graphics, and what types of vehicles they might be. Once we have collected all of the information we need, we'll provide you with our recommendations on what we think will deliver the best results for your specific goals and objectives.
To ensure that your business receives the most ROI on your new fleet graphics, PRINT IT BIG! uses not only the highest quality materials, we choose the best materials for each use. Using high-quality materials and inks help the messaging pop with the fleet graphic, catching the eye of everyone your vehicle's cross paths with. By selecting the materials that are right for each job, we make certain that your fleet graphics will last as long as possible. Many graphics can be worn out by rain damage or they fade in the sun. At PRINT IT BIG!, we're always striving to find the materials that will last the longest in these outdoor conditions, much to the satisfaction of our customers.
What you get with PRINT IT BIG:
Quality wrap films – We Use Premium Automotive Wrap Films.
High Quality Ink – Get better protection from rain damage or fading by the sun. All inks are NOT the same.
Dedicated Customer Service Specialist – Our dedicated customer service team make dreams come true.
Fleet Graphics & Wrap Printing Solutions – We have printing solutions to your problems.
Professional Wrap Installation By Experts – If you want professional results, then you need our professional wrap experts.
Fleet Graphics & Wraps Services
If you're ready to learn more about fleet graphics in St Louis and how they can benefit your business, reach out to the specialists at PRINT IT BIG! We have some BIG ideas on how our printing solutions can help your company grow, reaching new audiences through unique and engaging graphics. All we need to know is what you'd like to accomplish and we'll do the rest. You focus on the details and we'll take care of the BIG picture. You imagine it, We'll print it!

Check out our portfolio and contact us for a quote.
BIG INDUSTRY IMPACT
Big business to small business, local to national, nonprofit to for-profit; we'd never limit your vision, so we don't limit ourselves by focusing on a single industry. But, here's a few where we've had BIG results with fleet graphics:
Transportation
Small Business
Construction
Advertising, Branding, & Marketing