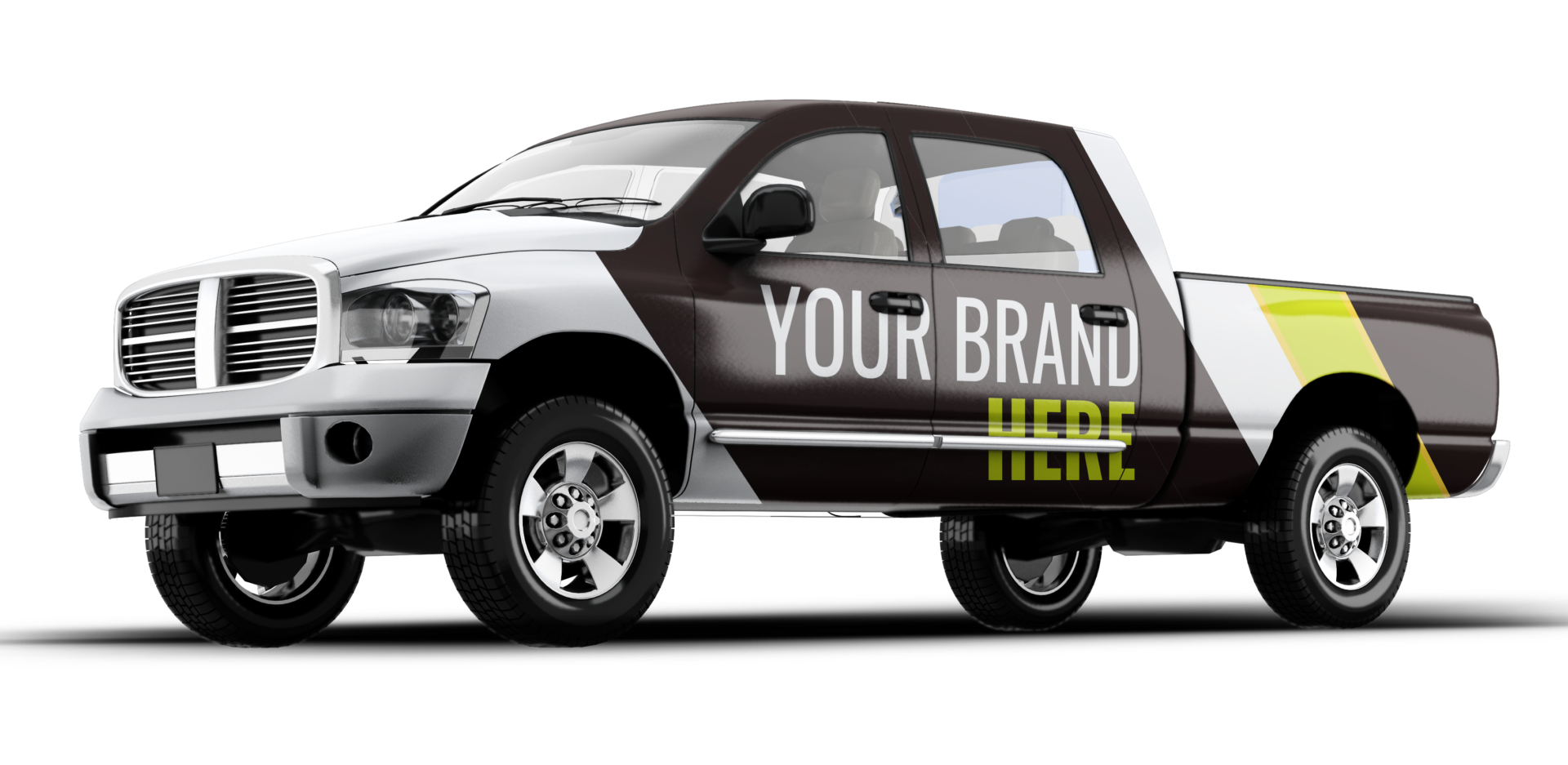 Vehicle Wraps & Vehicle Graphics Offer BIG Opportunities
Vehicle wraps and graphics help build brands and successfully grow businesses. Custom vehicle wraps will get your brand and business noticed. Vehicle vinyl wraps and graphics are your silent salesman without having to pay commission.
Types of Custom Vehicle Wraps
There are different types of custom vehicle wraps. Partial wraps are cheaper, but the full wraps will really get your brand noticed.
Full wraps cover the painted exterior of a vehicle.
Partial wraps are less than a full wrap only covering parts of the vehicle with vehicle graphics.
Print It Big uses premium vehicle vinyl wrap film that will last longer along with the high-quality ink. It all starts with a professional vehicle wrap design. Our graphic designers will create vehicle graphics that turns heads and will be remembered. We have a large selection of colors, textures, and finishes that will make your design come to life. The best vehicle wraps are designed and installed by professionals. Our vehicle wrap installers are experts at what they do. Check out our wide format printing gallery with our finished projects on trucks, cars, vans, buses, trailers and more.
The average driver spends 280 hours a year in their cars; driving back and forth to work, sitting in rush hour traffic, picking up the kids from soccer, running to the store for milk. Sometimes it can feel like we live in our cars, with the many places we have to be over the course of a day. While sitting there, captive in our vehicles, drivers have little else to do but observe the other cars around them. Vehicle wrap advertising is one of the best methods of driving sales. But what is it we are looking at? Frequently, it's other vehicles. And that is why vehicle wraps in St Louis is such a BIG opportunity for brands and businesses. Commercial vehicle wraps and graphics are a reflection of your business so it's important to use experts for your project. Get a quote on a professional vehicle wrap and we will turn your vision into something BIG.
Car Wraps & Car Graphics
While some car wraps and car graphics in St Louis turn out flat and dull, we think you deserve something a whole heck of a lot BIGGER! You deserve something that is just as bold as your message, something that is bound to leave a lasting impression on everyone who passes it on the road. That is why PRINT IT BIG! offers our customers with car wraps in St Louis that are vibrant and engaging, printed using only the highest quality materials. Because when you're trying to communicate BIG IDEAS, you need BIG RESULTS.
Truck Wraps & Truck Graphics
Businesses utilize a variety of vehicles for their daily operations with trucks, vans, trailers, buses, cars, and everything in between! It all starts with a professional truck wrap design. Custom truck wraps and truck graphics are rolling down the highway all the time getting noticed by other drivers and bystanders. The cool truck wraps have matching trailers and are getting BIG results. Truck vinyl wrap comes in a variety of colors, textures, and finishes. When it comes to truck wraps we got you covered.
Food truck wraps and graphics will turn commute time into advertising time and increase sales at every stop. We'll create food truck graphics from mouthwatering images of food, creative logos, and mascots that stands out in any crowd.
Customers looking for fleet vehicle printing in St, Louis tend to be businesses who are looking to wrap every car in their operation, so that each one is as bright and eye-grabbing as the next! PRINT IT BIG! understands that many companies have BIG needs and are looking for exceptional service to match. That is why we offer fleet vehicle wrap in St Louis and the surrounding metro area, to ensure that businesses have the printing solutions they need to succeed.
Car Wrap Companies That Care
If you're looking for car wrap companies that care about your business, then Print It Big is the right choice. Before we begin printing, we go over the goals and objectives of your business. This is accomplished because we are dedicated to exceptional customer service. What kind of vehicles are you driving, how many are in your fleet, what kind of information will need to be included on the wrap; questions like these will help us in guiding you to the perfect vehicle wrap. You will be paired with a dedicated customer service specialist, who will work to understand these needs, bringing them to life in BIG and exciting ways! If you find yourself with any questions, your customer service specialist will be happy to answer them.
While the applications for car wrap in St Louis have evolved over time, PRINT IT BIG! has remained on the cutting edge of printing technology. We have always strived to find the best materials, the best printers, and develop the best processes for making even the most challenging requests into BIG SUCCESSES. This commitment to providing our customers with the best service available is the reason we have been able to assist our customers for the past 30 years! You image it. We'll print it!
BIG INDUSTRY IMPACT
Big business to small business, local to national, nonprofit to for-profit; we'd never limit your vision, so we don't limit ourselves by focusing on a single industry. But, here's a few where we've had BIG results with vehicle wraps and fleet wraps:
Advertising
Small Business
Retail
Large Business